"More Trouble Ahead"
This post is a part of our series on Tom Horn – full collection of links at the bottom of the page.
Yet another man was to be executed in Brown's Hole in 1900.
Isam Dart was born in Texas 1855 and had arrived in Colorado in the 1870s or early 1880s. By one account, he first bore the name Ned Huddleston, who may have been the slave owner who owned Huddleston/Dart's parents. He supposedly had lost an ear in a knife fight with an Indian with whose wife Dart had become involved.
Dart rode with the Tip Gault gang, according to the same source, while it was attempting to escape with stolen horses belonging to Margaret Anderson's outfit south of Saratoga, Wyoming in 1875. In that episode, a previous Carbon County sheriff owned a ranch through which the horse thieves were pushing the herd. An evening shootout occurred, leaving all the thieves except Dart dead around a campfire. Dart spent an uneasy night next to the unburied body of one of the luckless thieves, and then stole money belts and whatever other loot he could gather up before he escaped on foot. He was wounded by a rancher when he attempted to steal a horse, and was found by an accomplice on the prairie.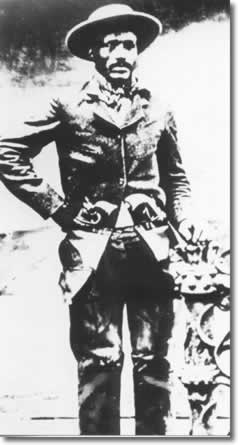 It is known that he was an accomplished horse breaker and all-around top cowhand, and superb at cutting out and roping cattle.
Dart ran for election as constable in Sweetwater County, Wyoming in 1884. The position was to be in Coyote Creek Precinct, forty-five miles southwest of Rock Springs and a few miles north of Irish Canyon, an eastern access to Brown's Hole. Dart won the election, with eight votes.
Dart was not without sin. Three indictments for branding neat cattle in Sweetwater County were brought against him by the Territory of Wyoming in 1889, but were discharged.
Dart was acquainted with one of the robbers of the Union Pacific train at Wilcox that took place north of Rock River, Wyoming on June 2, 1899.
Dart's involvement was described in a letter from Rock Springs to U. S. Marshal Frank Hadsell dated August 12, 1899. Little did Dart know that Tom Horn would investigate the robbery, and that Horn's scrutiny of Brown's Hole a year later would lead to his own death.
After the Wilcox heist, D. G. Thomas, the county and prosecuting attorney for Wyoming's Sweetwater County, wrote Hadsell that Angust McDougal had arrived in town from roundups south of Rock Springs and Powder Springs. He said that McDougal met a man "faged [sic] and worn out by hard riding, having six horses well shod, and one of the [sic them] packed." Thomas continued that Isam Dart was accompanying McDougal and had known the man for many years. McDougal, too, knew the man.
The man, however, apparently Dart knew better than he did McDougal and therefore felt he could confide in him. He asked Dart what he knew about "the condition" of the country. Dart replied that everyone knew the area was in an uproar over the recent robbery of the Union Pacific. The man told Dart that at the time of the robbery he was in British Columbia.
Dart persisted in talking about the robbery. The man, inquiring about McDougal, and on being told who he was, said, "don't tell, for God's sake don't tell any one you saw me." As Dart pursued the matter of the holdup the man "virtually admitted that he was one of the parties, as he remarked, 'I had a hell of a time keeping away from the hounds… Dart, you must not give me away.'
"This man's name was Joe Curry, Joe Southerner, alias Tom McCarty, who used to work with Joe Hazen on the range."
D. G. Thomas continued in his letter that McDougal would be interested in apprehending the man as long as he was in the company of a deputy sheriff and was paid for his work. He added that Hadsell could actually meet the man in Thomas' office or should send a "discreet" man to do so, and that Hadsell should keep the matter a "professional secret."
He concluded by saying that Tom O'Day (of the botched 1897 Belle Fourche, South Dakota bank robbery) along with Charles Stevens (a.k.a. White River Charley) and John Jinks (alias John Ray) "are in this neck of the woods."
It is not known but apparently Hadsell did not follow up on this golden opportunity, or the man may have disappeared. He may well have been George Curry, whom a number of authorities believe was one of the robbers and whom the Union Pacific wanted to apprehend. Curry ended up being killed in a shootout with a posse in Utah.
A fateful development for Isam Dart occurred two months after Matt Rash's murder. Boldly dropping his alias, on September 26, 1900, Tom Horn signed his own name to a complaint naming Dart as a horse thief.
Dart suspected that trouble was ahead for him after Matt Rash's murder. He holed up in a cabin with six other individuals, including Sam and George Bassett, Louis Brown, Billy Rash, Larry Curtin and Elijah B. "Longhorn" Thompson, on his ranch on remote Cold Spring Mountain in Brown's Hole. The whole bunch had been friendly with Matt Rash, and figured their names were on the list of those to be exterminated. Some may have been right.
On the morning of October 4, 1900, Dart died of a single gunshot wound as he and the others filed out from the cabin toward a corral. In the cold and windy dawn, none sighted the killer. They bolted for the cabin where they barricaded themselves until nightfall. The next day they found two thirty-thirty caliber shells at the base of the tree that had hidden the assassin. Tom Horn was known to pack a thirty-thirty Winchester.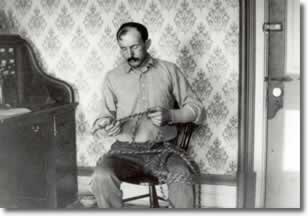 ---
This essay was originally published on Chip Carlson's personal website, which has since expired, and is re-published here as a way to preserve some of the content of this historical figure. If you would like to continue learning about Tom Horn, please explore the links below. If you'd like to read the complete story, and help to support the author, his book can be purchased here.
More about Tom Horn:
Tom Horn (main page)
The Tom Horn Story (summary)
The Killing of William E. Lewis