The Killing of Willie Nickell
This post is a part of our series on Tom Horn – full collection of links at the bottom of the page.
"I Think the Intention Was To Get Me In Place Of The Boy"
-Kels Nickell, Willie's father.
Kels Powers Nickell, Willie's father, had come to Wyoming in the mid-1870s, as part of General George C. Crook's command. Crook's force was part of the pincers movement ordered to entrap Sitting Bull and Crazy Horse in the ill?fated strategy that led to George Armstrong Custer's defeat at the Little Big Horn on June 25, 1876.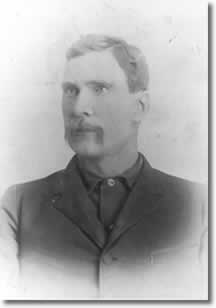 Kels P. Nickell and Mary Mahoney Nickell, Willie's parents (WY State Archives)
Nickell fought under Crook at the Battle of the Rosebud in southern Montana, north of Sheridan, Wyoming. Crook lost the battle, which forced his retreat to the south just days before Custer's annihilation.
Confederate Army deserters, guerrillas, had murdered Kels' father, John DeSha Nickell, on February 7, 1863, eight years after Kels was born in 1855. He was killed within earshot of the family on their farm in Licking River, Morgan County, Kentucky. The killer was John Jackson Nickell, a second cousin, who also murdered Logan Wilson. Wilson was shot in his bed while recuperating from wounds. John Jackson Nickell was hanged for the two murders on September 2, 1864, following court martial.
Kels' mother, Priscilla, and his five siblings remained on the farm in Kentucky for a period until the county circuit court sold it to satisfy a surety bond the elder Nickell had signed for a county elected official, whose name is unknown.
Kels remained in the area and went to work cutting timber that was assembled into rafts to be floated downstream to sawmills. He married Ann Brown of Greenup County, Kentucky, in 1873, but the marriage ended in divorce in 1877. One son was born of the marriage, John DeSha Nickell II, in 1874.
In 1875 he enlisted in the U.S. Cavalry and was assigned to the West. After the Battle of the Rosebud he was one of two men ordered by Crook to the Little Big Horn battle site before the dead were buried.
Nickell was counted as part of the force at Fort Laramie, Wyoming, in the census of 1880. After his discharge that year, he moved to Camp Carlin on the northwest outskirts of Cheyenne, and opened a blacksmith and farm machinery repair shop. He married Mary Mahoney, an Irish immigrant then 16, in Cheyenne on December 27, 1881. The daughter of a railway construction worker from Cork, Ireland, she had immigrated to the United States in 1868. Kels was ten years her senior.
The Laramie County Census of 1900, in which the Nickell family was enumerated at Iron Mountain on June 3 by Hiram G. Davidson, reflected the two parents and other members of the household:
Julia, born in 1883
Kels P., junior, born in 1884, whose occupation was a farm laborer
Willie, born in 1887, also a farm laborer
Katie, born in 1889
Alfred (Freddie), born in 1891
Beatrice (Trixie), born in 1892
Maggie, born in 1894
Ida McKinley, a daughter born in 1896
Hiram Harlan, born in 1899.
Nickell had filed a homestead claim, of which he took possession, in 1885, in the Iron Mountain region. At the same time he filed for an additional 480 acres of government land, which could be acquired for $1.25 per acre. Over the course of years, he bought, sold and filed desert claims (a common way to acquire arid government tracts by going through the motions of irrigating them) on land in the area.
Nickell was a hothead with an explosive temper, according to two of his granddaughters who are friends of the author. Testimony in the coroner's inquest that followed Willie's murder indicated that he was always in some kind of a "jangle."
The homes he built both in Iron Mountain and later in Encampment, Wyoming were located close enough to streams to provide his family with running water, a rare convenience in rural country. The Iron Mountain home had water piped into it from North Chugwater Creek, which was a few feet to the south of the structure.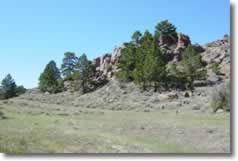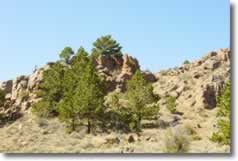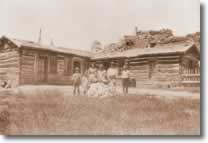 It is incorrect to believe that all homesteaders were barely literate and not interested in their children's education. The Nickell and Miller families worked together to build the school located about halfway between their homes. Nickell was concerned for his children's education, as was manifested itself in the fact that Kels Jr. was away at a private school at the time Willie was killed. The father intended to send all the children to private schools, in order to provide them with a better education than they could obtain in rural Wyoming.
The prologue that resulted first in the killing of Willie Nickell on July 18, 1901, and Kels' wounding on August 4, was the result of feuds in which Kels had become embroiled as far back as 1890. On July 23 of that year, he tangled with John Coble and Coble's foreman, George Cross, at the western edge of Nickell's homestead, over some cattle. He knifed Coble, seriously wounding him in the abdomen.
Nickell continued to display symptoms of paranoia, manifesting itself in a conviction that the Iron Mountain people were out to do him in.
The feud was acutely bitter between the Nickell clan and Jim Miller's, who lived about a mile south of Nickell. Both fathers and Willie Nickell plus Gus and Victor Miller, the two older boys, were involved to one degree or another.
Miller had established a homestead in the spring of 1883.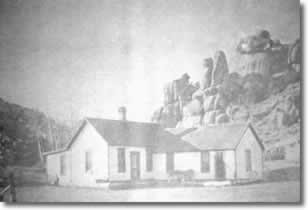 Miller was born in Galena, Illinois in 1855. He was married to Dora Cora Lemon, who was born in 1864 in Greeley, Colorado. They had moved from Greeley, where the oldest son, Charles Augustus "Gus", was born, in a covered wagon.

After building a log cabin where they lived the first winter, they established themselves by setting up a sawmill and raising a few head of stock. Miller sold logs and posts to neighbors below their homestead, which was at 6,800 feet elevation, such as the Jordans and Underwoods.
The 1900 census showed that the household consisted of, in addition to the parents:
Charles Augustus (Gus), born in 1882, described as a farm laborer
Victor Henry, born in 1883, also a farm laborer
Eva Jane, born in 188
Frank, born in 1887
Maude S., born in 1891
Raymond, born in 1893
Ina S., born in 1895
Robert L., born in 1897
Ronald Andrew, born in 1899
Benjamin F., Jim's brother, who was born in 1858 and was a railroad laborer.
One daughter, Bertha May, was born in May 1889 and died of diphtheria when she was eight or nine years old, in 1898.

Nickell's disputes, however, were not limited to the Millers alone. In Tom Horn's words, the Reed brothers (Joseph and William, who lived about three miles northeast of Nickell) were "about the only friends he had."
The feud with Jim Miller and his boys reached a boiling point a year before Willie was shot. As the men in the family began carrying guns, a tragedy resulted in May 1900 from the accidental discharge of a shotgun in Miller's spring wagon. It hit 14?year?old Frank Miller in the head, killing him instantly, and severely injuring Maude. Maude carried buckshot and scars from the incident for the rest of her life….
---
This essay was originally published on Chip Carlson's personal website, which has since expired, and is re-published here as a way to preserve some of the content of this historical figure. If you would like to continue learning about Tom Horn, please explore the links below. If you'd like to read the complete story, and help to support the author, his book can be purchased here.
More about Tom Horn:
Tom Horn (main page)
The Tom Horn Story (summary)
The Killing of William E. Lewis