1893: The Langhoff Gang
This post is a part of our series on Tom Horn – full collection of links at the bottom of the page.
"there had been considerable cattle stealing"
From deputy U.S. marshal to stock detective and sometime-sheriff was not a big jump. It may have been that Tom Horn was first hired as a stock detective and graduated easily to deputy marshal, without leaving the first job.
When first hired by the Swan Land and Cattle Company, Tom Horn was based at the Two Bar Ranch. The Swan's headquarters were and remain in Chugwater, thirty-five miles north of Cheyenne. The Two Bar home ranch is another twenty miles or so northwest of Chugwater, off and to the north of present?day Wyoming Highway 34.
The Swan's other ranches, the Mule Shoe, TY, M Bar and 40 Bar, were major operating centers of one of the largest livestock operations in the history of the West, controlling over five hundred thousand acres of land and tens of thousands of cattle by 1885. The empire stretched from Sidney, Nebraska, ninety miles east of Cheyenne, to Rock River, Wyoming, ninety miles to the northwest.
The first documentation of Tom Horn's work as a stock detective involved the Langhoffs, a small cattle outfit. He had been specifically directed to gather evidence that could be used to obtain legal convictions against rustlers like the Langhoffs. At the time, John Clay was manager of the Swan operations.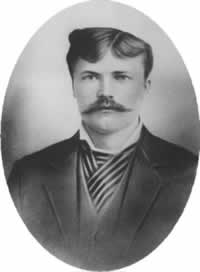 Ferdinand Albert Langhoff (a derivative spelling of the original German "Langholf") was born in Wisconsin in 1856. In 1869 he moved to the Dakota Territory and by 1878 was working as a cowhand in North Park, CO. His employer at the time was Charley Hutton, a pioneer Laramie Valley ranchman.
By 1880 he was in Wyoming, living at Dale Creek, fifteen miles south of Ames Monument to the west of Cheyenne. In 1882, he settled on the main Sybille Creek forty miles southwest of Wheatland and northwest of Iron Mountain. He was married to Evalina "Eva" Farrell, a woman from near the Little Laramie River whom he had married in 1881 at her family's ranch in the Little Laramie Valley.
Eva's father, a Civil War veteran, had moved to Wyoming shortly after the war. By 1870 he was one of the largest cattlemen in Albany County.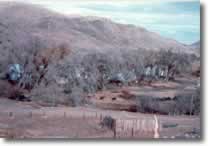 Within a short period of time Fred and Eva had developed a substantial operation on 360 acres they owned outright. They were in the process of proving up on another 160 acres. They had three children.
Fred's brother, Henry (Hank), had moved from Wisconsin with their mother and lived for a short period with Fred and Eva. Hank worked at times with young Gus Rosentreter for people moving into the Sybille Canyon valley. There was reason to believe that Hank and Fred did not get along, and Hank and their mother moved to another cabin nearby. Hank ended his own life in 1892 when he hanged himself in a shed on his brother's place. Their mother died shortly thereafter.
The Langhoff spread, along with other homesteads that were springing up in the area, were located between large ranch operations in the Laramie Valley to the west and the vast Swan holdings to the east, primarily the Two Bar. Other substantial cattlemen also were situated near Langhoff's outfit, including William L. "Billy" Clay, whose place lay to the southeast on Mule Creek.
Other early settlers on the Sybille included many whose names later turned up in the Tom Horn/Willie Nickell episode. The included Mike Fitzmorris and many of German descent: Rudolf and Raymond Henke; the Plaga brothers, Otto and Albion; and the Berner and Waechter clans, who all homesteaded there in the 1880s. To the southeast were the families of Jim Miller and Kels Nickell, the former on Spring Creek and the latter North Chugwater south of Clay.
Fred Langhoff was perhaps a focal point and an example of the larger struggle between the so-called cattle barons and more recently arriving homesteaders. The homesteaders who had legally filed on their land felt they had a right to use of the land and water resources. The big outfits believed otherwise, and did whatever they could to squeeze the "nesters" out. Their actions, including the lynching of Cattle Kate and Jim Averill in 1889, the lynching of Tom Waggoner shortly afterward and the Johnson County Invasion in April 1892 developed a spreading animosity toward them on the part of an increasing middle class.
Fred developed a reputation as a horse trader, but was arrested for horse theft in 1892. He had shipped twenty-six horses to Owensboro, KY in June 1892. His problem was that he did not own them. The owners included John C. Coble, a prominent cowman and two other major outfits.
The law pursued him to Kentucky, only to learn he had fled after selling the horses. A deputy sheriff remained in Kentucky to reacquire the horses, while a sheriff pursued Fred to Wisconsin. Fred was returned to Cheyenne to await prosecution. Also charged were Eva and two hired hands, Thomas Boucher and Louis Bath. Bath was the son of a prominent Laramie Valley family whose place was near the spread of the Farrells.
While Fred was engaging in casual or more serious thievery, and his neighbors, including Leslie Sommer, knew what was going on. Sommer wrote, "There were whispers that the Langhoffs' prosperity far exceeded their visible livelihood".
Fred's log house and spread became a gathering place for various purposes. People from as far as Chicago and farther east arrived to take advantage of the horse-trading opportunities at the LF Bar, as his place was known. At first Fred's business seemed to be legitimate, but as time went on there was talk that Fred seemed to do far better than one would expect, considering his modest start and assets.
There were other aspects of the Langhoff operation that attracted attention. It appeared that Eva's charm and charms diverted customers away from obtaining a clear title to the horses they acquired. Leslie Sommer continued.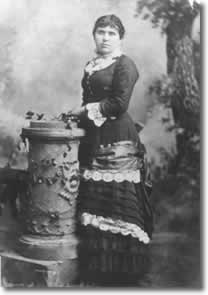 There were rumors of the lure Mrs. Langhoff had for the strangers that came within their gates with horses or cattle to sell. Some of these strangers, falling under her spell, fell so deeply in love with her they figured they had received value personally, regardless of the profitless deal they may have made on their business arrangements….
The 1892 incident with the stolen horse was the nadir of Fred's questionable actions as things turned completely sour. Things had not been going well beforehand.
Hearsay indicated that earlier, a visitor, a Frenchman named Zu (or Susette), had a number of fancy horses for sale. He evidently had made some kind of a deal with the Langhoffs, since they had possession of his horses.
Susette disappeared from familiar haunts, after he had complained to the law about the rawness of the deal. It was later reported that he'd hanged himself in the area.
By this time, however, the authorities in Cheyenne had begun an investigation of the Langhoff operation's more extensive activities. After a series of legal proceedings that ended in Eva's being acquitted, Fred suddenly disappeared. He left Eva in charge of the ranch.
It was said that she graciously entertained the investigating committee that was trying to learn of Fred's whereabouts, but coyly denied knowing where he might have gone.
---
This essay was originally published on Chip Carlson's personal website, which has since expired, and is re-published here as a way to preserve some of the content of this historical figure. If you would like to continue learning about Tom Horn, please explore the links below. If you'd like to read the complete story, and help to support the author, his book can be purchased here.
More about Tom Horn:
Tom Horn (main page)
The Tom Horn Story (summary)
The Killing of William E. Lewis