Tom Horn Hanged
This post is a part of our series on Tom Horn – full collection of links at the bottom of the page.
"Hanged By The Neck Until You Are Dead"
On November 14, 1903, six days before the hanging, the Rawlins Republican reported that "Bad Bob" Meldrum had written to Horn.
Tom Boy Mine, Telluride, Colo.
Nov. 3, 1903
Tom Horn, Esq., Cheyenne Wyo.
Dear Tom: I see by the daily press that things are coming your way at last, which pleases me very much. Lots of people here want to see you clear and in fact are positive that you will. By the way if the worst come to the worse YOU WILL NEVER HANG, as I know of a way that will get you out of that, so don't lose any sleep on that part of the programme….
Now, remember what I tell you. It will be all OK. I got it STRAIGHT AND I MAY BE THERE TO SEE IT.
The letter was not delivered to Horn, the Republican said.
There was an air of finality in Horn's letter to Coble on November 17, 1903.
Dear Johnnie:
Proctor told me that it was all over with me except the applause part of the game.
You know they can't hurt a Christian, and as I am prepared, it is all right.
I thoroughly appreciate all you have done for me. No one could have done more. Kindly accept my thanks, for if ever a man had a trued friend, you have proven yourself one to me.
Remember me kindly to all my friends, if I have any besides yourself. Burke and Lacey have not shown up.
I want you to always understand that the stenographic notes taken in the United States Marshal's office were all changed to suit the occasion. The notes read at the trial were not the original notes at all. Everything of an incriminating nature read in those notes was manufactured and put in. It won't do any good to kick at that now, so let 'er go.
If any one profits by my being hung, I would be sorry to see them disappointed.
It would, perhaps, be somewhat of a trying meeting for you to come to see me now. Do as you like. It might cause you a good deal of pain. I am just the same as ever, and will remain so.
The governor's decision was no surprise to me, for I was tried, convicted and hung before I left the ranch. My famous confession was also made days before I came to town.
I told Burke to give you some writing I did; be sure and get it. You will not need anything to remember me by, but you will have that anyway. Anything else I may have around the ranch is yours.
I won't need anything where I am going. I have an appointment with some Christian ladies tomorrow, and will write you of their visit tomorrow night.
I will drop you a line every day now, till the Reaper comes along. Kindest to all.
Yours truly,
Tom Horn
According to two sources, on November 18 he learned that an effort to spring him free would be made the next day. Butch Cassidy, it was said, would be the leader. While the rumor grew and it is possible the two knew each other, they seem an unlikely alliance because Horn and Cassidy were on opposite sides of the lawman-outlaw melange. Nevertheless, the morning of the nineteenth a message appeared in the snow, "Keep Your Nerve."
Sheriff Ed Smalley had no intent of allowing his most infamous prisoner escape. With assistance from the governor, he had arranged for armed troops to surround the block where the jail and courthouse were located. A Gatling gun from Fort D. A. Russell was mounted on the roof, with a Sergeant Mahon, "an expert gunner of the Thirteenth Artillery" stationed in the jail every night.
Sheriffs from other communities were stationed in the complex, armed with shotguns and repeating rifles….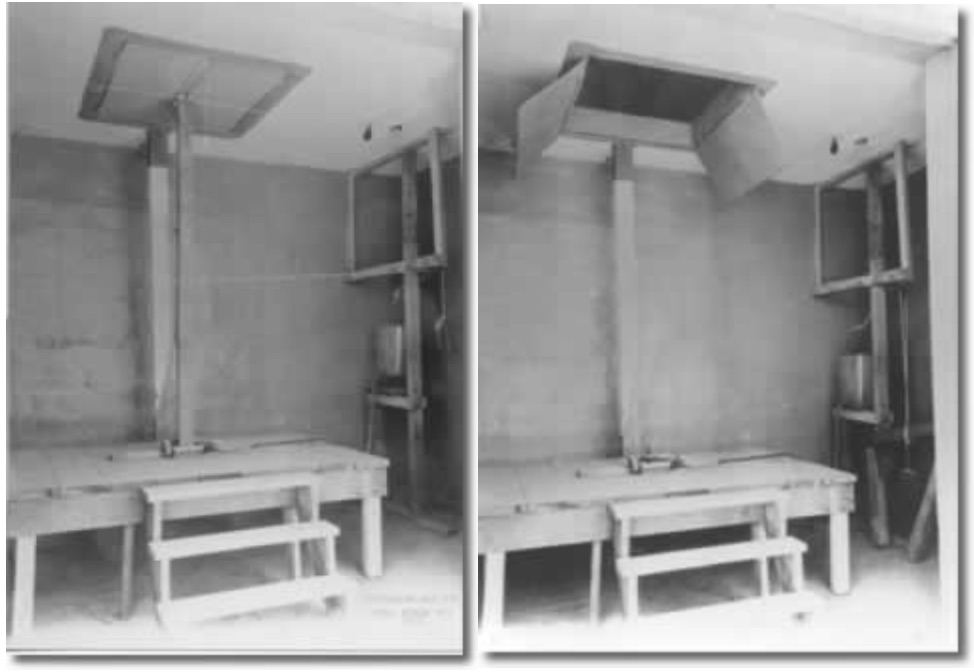 Buy the book from Chip Carlson, and read "the rest of the story." See more about the book using the link below.
---
This essay was originally published on Chip Carlson's personal website, which has since expired, and is re-published here as a way to preserve some of the content of this historical figure. If you would like to continue learning about Tom Horn, please explore the links below. If you'd like to read the complete story, and help to support the author, his book can be purchased here.
More about Tom Horn:
Tom Horn (main page)
The Tom Horn Story (summary)
The Killing of William E. Lewis