Tom Horn: Blood on the Moon
Dark History of the Murderous Cattle Detective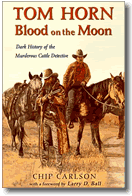 With findings never before published, Chip Carlson presents the documented history of the career of Tom Horn, Wyoming's notorious stock detective. Chip Carlson's monumental research draws the reader into questioning whether Tom Horn was actually railroaded for a murder he did not commit – but could have.
Tom Horn was a death sentence to rustlers and the devil incarnate to homesteaders in late nineteenth-century Wyoming. The most notorious of Wyoming's range detectives, he is the pre-eminent name in Wyoming history.
He operated unchecked until he was arrested for the 1901 murder of the fourteen-year-old son of a sheep-ranching settler. The murder and questionable nature of Tom Horn's controversial conviction still ignite firestoms of controversy among historians and Wyomingites in general.