Chip Carlson
This post is a part of our series on Tom Horn – full collection of links at the bottom of the page.
About the late Chip Carlson (died Jan 2022), author of Tom Horn: Blood on the Moon – Dark History of the Murderous Cattle Detective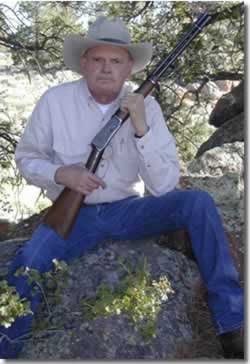 Chip Carlson is the acknowledged world authority on Tom Horn, Wyoming's infamous cattle detective. Twenty years of Carlson's research has resulted in three books, the most recent of which won the prestigious Annual Award for history/biography from the Wyoming State Historical Society.
Dr. Gene M. Gressley, Director Emeritus of the American Heritage Center at the University of Wyoming states, "Chip Carlson knows more about Tom Horn than any person living."
He is the author of dozens of articles on early Western events that have appeared in such national publications as Wild West, True West and American Cowboy.
For over ten years he has given entertaining and information slide presentations on and portrayals of Tom Horn to groups in Wyoming, Colorado, Nebraska and Missouri.
Carlson has conducted tours to historical sites in Wyoming.
He is a graduate of Colgate University, with liberal arts degrees in philosophy and Spanish. Born in Pennsylvania, near the area that was the birthplace of such early powers in the Wyoming cattle business such William C. Irvine, Frank Bosler and John Coble, he was raised in the East.
Following a career in international marketing in Latin America, Canada, and the Midwest, he moved to Wyoming in 1977. He presently is a writer and internet content specialist for an international firm in Cheyenne.
He is a member of the Wyoming State Historical Society and the Western Outlaw-Lawman History Society.
Carlson is bilingual English/Spanish and has done extensive translation work for the federal and state courts as well as for commercial firms.
Carlson's wife, Susan, who is also a published author, and he live north of Cheyenne, Wyoming.
---
This essay was originally published on Chip Carlson's personal website, which has since expired, and is re-published here as a way to preserve some of the content of this historical figure. If you would like to continue learning about Tom Horn, please explore the links below. If you'd like to read the complete story, and help to support the author, his book can be purchased here.
More about Tom Horn:
Tom Horn (main page)
The Tom Horn Story (summary)
The Killing of William E. Lewis