Tom Horn's Trial: Guilty!
This post is a part of our series on Tom Horn – full collection of links at the bottom of the page.
"I have been in the case under the advisement of the prosecuting
attorney. I have done things under his instructions." -Joe Lefors
As the proceedings drew to a close, the defense introduced evidence that only Victor Miller could have committed the crime, by pointing out a footprint of a size six or seven shoe near the body. Of all the witnesses who testified at the inquest and who could have been near the site, only young Victor could have worn that size shoe. Tom Horn's shoe was considerably larger, of course.

By the time Joe LeFors testified, even in the face of intense cross-examination by Tom Horn's lawyer, most of the jurymen had largely made up their minds.
LeFors acknowledged in direct examination from Walter Stoll that his conversation with Tom Horn had occurred in the morning, starting around eleven o'clock, and that it had "perhaps" continued in the early afternoon. He stated that Horn's condition was "sober and rational."
When John Lacey commenced cross-examination, he tried to have LeFors acknowledge that part of the stories he told were yarns. LeFors feigned ignorance of the term "tall yarns," and tried to emphasize that most of the information he had given Tom in their banter was factual, such as accounts of the skirmishes he had had while working in Weston County. He finally did admit that he had woven of a tale when he had told Tom about having moved bands of sheep without the consent of the owner. He added that he heard the story about Horn having killed a Mexican lieutenant, and about having been imprisoned and escaped. Lacey did not pursue that vein, probably because it was not pertinent.
When the subject turned to the Nickell murder, LeFors generally became vague. As Lacey probed to verify what Horn had said about where the killer had been, LeFors acknowledged that Horn's comment was that he had been in the "big draw to the right [south] of the gate.
LACEY. …Well, now in stating how he supposed that the way the killing of Willie Nickell happened, he said, "Suppose there was a man in the draw, in the big draw to the right of the gate, the draw that runs down to the main creek, near Nickell's house." Is that what he said?
LEFORS. Yes, sir….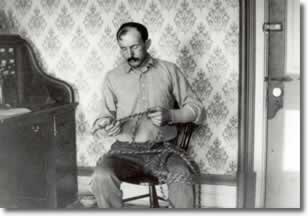 As soon as Lacey became specific, asking for example about whether Willie had run in "a southern direction," LeFors said that was his impression Horn meant that the boy had run to the south. At the same time, he hedged, saying, "That was the way I understood it, form the way he was pointing off the paper he had." It was not, however, from what Horn had said, LeFors saying, "Not from that, Judge. He had a piece of paper, and he was marking on it. From his marks I thought that was the way it occurred."
Turning to the assertion that Horn had run barefoot across the country, LeFors was similarly hesitant, and acknowledged he was not very familiar with the area.
LACEY. When asked the question, "You had your boots on?" he said he was barefoot. Why did you say, "You had your boots on?"
LEFORS. It would look kind of unnatural for a man to pull his boots off when in a hurry to do a job.
LACEY. What was there about that particular country that it looks like a man must have had his boots on?
LEFORS. There is nothing particular about it. I have never been over that country except for twice.
LACEY. You don't know it very thoroughly?
LEFORS. Not very thoroughly. I have only been over it a couple of times.
Lacey then tried to gain a firm assertion that both Horn and LeFors were spinning tales, with LeFors leading him on. LeFors again was vague, and the effort was ineffectual.
LACEY. You were asked the question, "You don't know which of you told the biggest yarns." Is that correct? To that did you answer, "That would be problematical?"
LEFORS. I think I did.
LACEY. Were you not asked this further question, "And so what you said about killing people was not true?" And to that didn't you answer, "I was just leading him on?"
LEFORS. I might have done that. I don't know as to that. I don't remember.
Walter Stoll then began redirect. He asked LeFors if Horn and he had had any conversations about the killing before the one in January. LeFors acknowledged that they had met, but only twice during Frontier Days, and said that it was always Horn who brought up the subject of the murder. When it came to his attempts to induce the detective to throw in with him, finger the party in the country and split the reward, he retorted, "Never had any such conversation as that at no time."
Lacey had another opportunity to question LeFors. He asked whether the deputy marshal had told Horn that he already had evidence that would convict Jim and Victor Miller. LeFors denied he had said anything of the sort. Lacey then turned to LeFors' interest in the reward money, Frank Mulock, and LeFors' relationship with Walter Stoll.
LACEY. You have taken a good deal of interest in the case?
LEFORS. I have taken an interest in this way ?? the defendant wanted to talk with me.
LACEY. I did not say how. I say you have taken an interest in the case?
LEFORS. Yes.
LACEY. You have taken an interest in this case, considerable interest?
LEFORS. Well, I have been in the case at different times. I have been asked by the prosecuting attorney in the case ??
LACEY. You went to Denver and interviewed those witnesses?
LEFORS. Well, no ??
LACEY. Didn't you go to Denver?
LEFORS. Two of the witnesses I never saw.
LACEY. You went to Denver to see one of them?
LEFORS. I don't believe I did.
LACEY. Did you interview one in Denver?
LEFORS. I never interviewed him in Denver. Two of them I never seen before.
LACEY. Do you not remember seeing either of them?
LEFORS. Only here in Cheyenne.
LACEY. When?
LEFORS. After this case started. I met Mr. Mulock and this other gentleman. I forget his name….
---
This essay was originally published on Chip Carlson's personal website, which has since expired, and is re-published here as a way to preserve some of the content of this historical figure. If you would like to continue learning about Tom Horn, please explore the links below. If you'd like to read the complete story, and help to support the author, his book can be purchased here.
More about Tom Horn:
Tom Horn (main page)
The Tom Horn Story (summary)
The Killing of William E. Lewis