Aretha Franklin: The Queen Of Soul
Fan-Submitted Writing, Photos, and Collaboration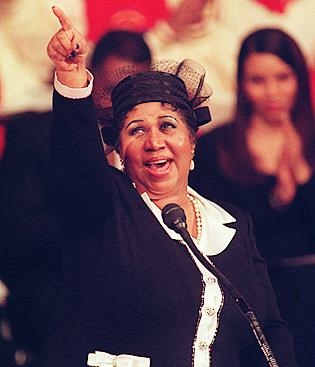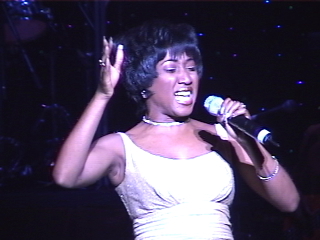 This is a collection of information gathered about Aretha Franklin. We hope that you enjoy this content, and if you're looking for additional resources, we suggest Aretha's own website (as the official resource), the wikipedia page (for the most up-to-date information), and the collection of Aretha Franklin media at amazon for related discography and merchandise. We've also compiled some fun facts and stats from the U.S. Census Bureau about the name Aretha Franklin. Have fun, and enjoy!
Aretha Franklin Biography
Born:
March 25, 1942, Memphis, TN
Died:
August 16, 2018 (age 76), Detroit, Michigan, U.S.
Aretha Franklin is one of the giants of soul music, and indeed of American pop as a whole. More than any other performer, she epitomized soul at its most gospel-charged. Her astonishing run of late-'60s hits with Atlantic Records–"Respect," "I Never Loved a Man," "Chain of Fools," "Baby I Love You," "I Say a Little Prayer," "Think," "The House That Jack Built," and several others–earned her the title "Lady Soul," which she has worn uncontested ever since. Yet as much of an international institution as she's become, much of her work–outside of her recordings for Atlantic in the late '60s and early '70s–is erratic and only fitfully inspired, making discretion a necessity when collecting her records.
Franklin's roots in gospel ran extremely deep. With her sisters Carolyn and Erma (both of whom would also have recording careers), she sang at the Detroit church of her father, Reverend C.L. Franklin, while growing up in the 1950s. In fact, she made her first recordings as a gospel artist at the age of 14. It has also been reported that Motown was interested in signing Aretha back in the days when it was a tiny start-up. Ultimately, however, Franklin ended up with Columbia, to which she was signed by the renowned talent scout John Hammond.
Franklin would record for Columbia constantly throughout the first half of the '60s, notching occasional R&B hits (and one Top Forty single, "Rock-a-bye Your Baby with a Dixie Melody"), but never truly breaking out as a star. The Columbia period continues to generate considerable controversy among critics, many of whom feel that Aretha's true aspirations were being blunted by pop-oriented material and production. In fact, there's a reasonable amount of fine items to be found on the Columbia sides, including the occasional song ("Lee Cross," "Soulville") where she belts out soul with real gusto. It's undeniably true, though, that her work at Columbia was considerably tamer than what was to follow, and suffered in general from a lack of direction and an apparent emphasis on trying to develop her as an all-around entertainer, rather than as an R&B/soul singer.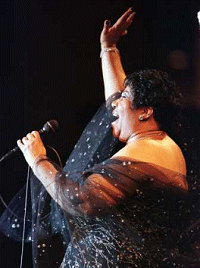 When Franklin left Columbia for Atlantic, producer Jerry Wexler was determined to bring out her most soulful, fiery traits. As part of that plan, he had her record her first single, "I Never Loved a Man (The Way I Love You)," at Muscle Shoals in Alabama with esteemed Southern R&B musicians. In fact, that was to be her only session actually at Muscle Shoals, but much of the remainder of her '60s work would be recorded with the Muscle Shoals Sound Rhythm Section, although the sessions would actually take place in New York City. The combination was one of those magic instances of musical alchemy in pop: the backup musicians provided a much grittier, soulful, and R&B-based accompaniment for Aretha's voice, which soared with a passion and intensity suggesting a spirit that had been allowed to fly loose for the first time.
In the late '60s, Franklin became one of the biggest international recording stars in all of pop. Many also saw Franklin as a symbol of Black America itself, reflecting the increased confidence and pride of African-Americans in the decade of the civil rights movements and other triumphs for the Black community. The chart statistics are impressive in and of themselves: ten Top Ten hits in a roughly 18-month span between early 1967 and late 1968, for instance, and a steady stream of solid mid-to-large-size hits for the next five years after that. Her Atlantic albums were also huge sellers, and far more consistent artistically than those of most soul stars of the era. Franklin was able to maintain creative momentum, in part, because of her eclectic choice of material, which encompassed first-class originals and gospel, blues, pop, and rock covers, from the Beatles and Simon & Garfunkel to Sam Cooke and the Drifters. She was also a fine, forceful, and somewhat underrated keyboardist.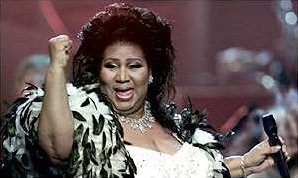 Franklin's commercial and artistic success was unabated in the early '70s, during which she landed more huge hits with "Spanish Harlem," "Bridge Over Troubled Water," and "Day Dreaming." She also produced two of her most respected, and earthiest, album releases with Live at Fillmore West and Amazing Grace. The latter, a 1972 double LP, was a reinvestigation of her gospel roots, recorded with James Cleveland & the Southern California Community Choir. Remarkably, it made the Top Ten, counting as one of the greatest gospel-pop crossover smashes of all time.
Franklin had a few more hits over the next few years–"Angel" and the Stevie Wonder cover "Until You Come Back to Me"–being the most notable–but generally her artistic inspiration seemed to be tapering off, and her focus drifting toward more pop-oriented material. Her Atlantic contract ended at the end of the 1970s, and since then she's managed to get intermittent hits — "Who's Zooming Who" and "Jump to It" are among the most famous — without remaining anything like the superstar she was at her peak. Many of her successes were duets, or crafted with the assistance of newer, glossier-minded contemporaries such as Luther Vandross. There was also another return to gospel in 1987 with One Lord, One Faith, One Baptism.
Critically, as is the case with many '60s rock legends, there have been mixed responses to her later work. Some view it as little more than a magnificent voice wasted on mediocre material and production. Others seem to grasp for any excuse they can to praise her whenever there seems to be some kind of resurgence of her soul leanings. Most would agree that her post-mid-'70s recordings are fairly inconsequential when judged against her prime Atlantic era. The blame is often laid at the hands of unsuitable material, but it should also be remembered that — like Elvis Presley and Ray Charles — Franklin never thought of herself as confined to one genre. She always loved to sing straight pop songs, even if her early Atlantic records gave one the impression that her true home was earthy soul music. If for some reason she returned to straight soul shouting in the future, it's doubtful that the phase would last for more than an album or two. In the meantime, despite her lukewarm recent sales record, she's an institution, assured of the ability to draw live audiences and immense respect for the rest of her lifetime, regardless of whether there are any more triumphs on record in store. — Richie Unterberger
Discography
1956 – The Gospel Soul of Aretha Franklin
1962 – The Electrifying Aretha Franklin
1962 – The Tender, The Moving, The Swinging Aretha…
1963 – Laughing on the Outside
1964 – Songs of Faith
1965 – Once in a Lifetime
1967 – I Never Loved a Man (The Way I Love You)
1967 – Aretha Arrives
1967 – Take It Like You Give It
1967 – Lee Cross
1968 – Lady Soul
1968 – Aretha Now
1968 – Aretha in Paris [live]
1969 – Aretha Franklin: Live!
1969 – I Say a Little Prayer
1969 – Soul '69
1970 – This Girl's in Love with You
1970 – Don't Play That Song
1970 – Sweet Bitter Love
1970 – Spirit in the Dark
1971 – Live at the Fillmore West
1971 – Aretha Live at Fillmore West
1971 – Young, Gifted & Black
1972 – Amazing Grace
1973 – Hey Now Hey (The Other Side of the Sky)
1974 – With Everything I Feel in Me
1974 – Let Me in Your Life
1975 – You
1975 – Two Originals
1976 – Sparkle
1977 – Satisfaction
1977 – Sweet Passion
1977 – Most Beautiful Songs
1978 – Almighty Fire
1979 – La Diva
1980 – Aretha [1980]
1980 – Aretha Sings the Blues
1981 – Love All the Hurt Away
1982 – Jump to It
1983 – Get It Right
1984 – Never Grow Old
1984 – Aretha's Jazz
1985 – First Lady of Soul
1985 – Who's Zoomin' Who?
1986 – Soul Survivor
1986 – Aretha [US]
1987 – One Lord, One Faith, One Baptism
1988 – Aretha [Import]
1989 – Through the Storm
1991 – What You See Is What You Sweat
1992 – Jazz to Soul
1995 – Unforgettable: A Tribute to Dinah Washington
1997 – Love Songs [Rhino]
1998 – A Rose Is Still a Rose
1998 – You Grow Closer
1999 – I Dreamed a Dream
2002 – Aretha's Best

2003 – So Damn Happy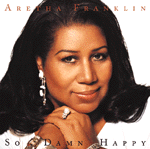 For the most recent and in-depth discography listings, see what users have listed on wikipedia.
See fun facts and stats about the name Aretha Franklin!

---
We love to share articles from our community with others! If you love to write and have an idea for an interesting article, let us know and we'll consider it for publishing.