The status of Hades was

last posted on 09/15/22 by
Please contact them directly
if you are interested in
what they've published:
8513 Lyons Road Waynesboro, PA

Did someone say dognip?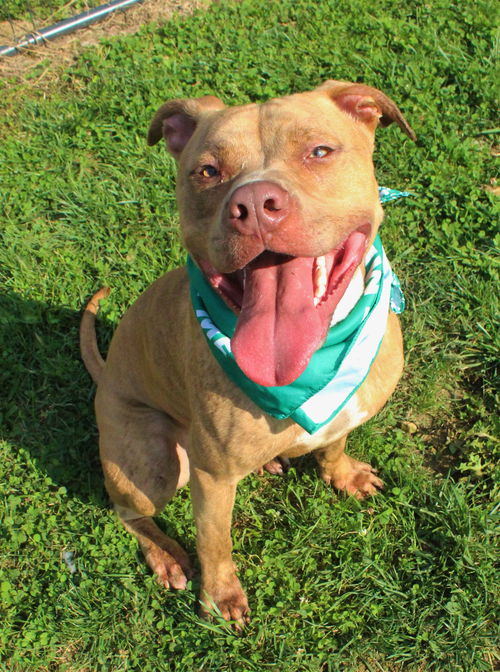 Hades
Status: Last posted as 'available' on 09/15/22
Male Dog, Pit Bull Terrier
Pit Bull Terrier (Short Coat)
Description:
Two-year-old Hades was transferred to AHS from another shelter back in August 2021 and is still looking for a place to call home. This big hunk is as vocal and playful as they come and loves to talk to staff whenever anyone passes by his kennel. Hades loves running around the yard and playing fetch with stuffed toys, and when he gets tired he enjoys sprawling out in the shade while getting scratches until he is ready to run again! This bouncy pup does need to work on his leash manners and basic training so a patient owner willing to work with the energetic guy would be the perfect match. Previously, Hades was returned to the Parkersburg Humane Society due to not getting along with the other dog in the home; the AHS staff believes he would be fine in a home with another canine with a preference for female dogs with a similar energy to Hades. A home with children who are used to large dogs would be a good fit for this bouncy guy as Hades is not use to being around children and does not yet realize he needs to be gentle when playing. If you think this big goofy guy could be the perfect pooch for you, come by the shelter and meet him today! Hades is neutered, microchipped, and up to date on vaccinations. Online adoption applications can be found at www.antietamhumanesociety.org/adopt Antietam Humane Society 8513 Lyons Road Waynesboro, PA 17268 717-762-9091/ Fax 717-762-0996 www.antietamhumanesociety.org
Peak your interest?
See other adoptable pets at
See fun facts and stats about