The status of Atlee (Bonded with Mercy) was

last posted on 11/28/22 by
Please contact them directly
if you are interested in
adopting Atlee (Bonded with Mercy)
- here's
what they've published:

Keep calm and purr on.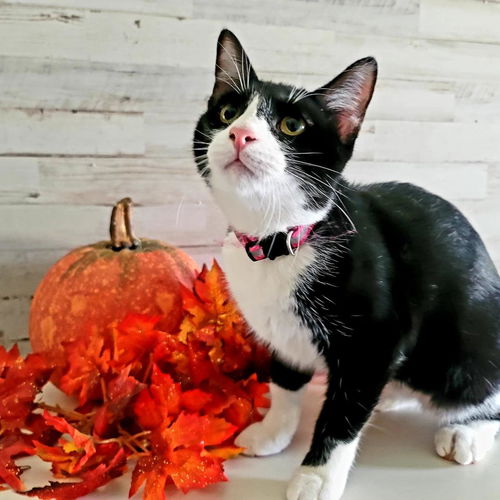 Atlee (Bonded with Mercy)
Status: Last posted as 'available' on 11/28/22
Female Cat, American Shorthair
American Shorthair / Tuxedo (Short Coat)
Description:
Atlee is playful, vocal and she likes to snuggle. She is passionate about running and jumping while chasing after her toys. Atlee will snuggle up with her human companion on your chest or in your lap. She will seek you out with a soft "meow" when wanting your attention. Atlee is comfortable sleeping on cool tile floors or inside the bathtub! Her ideal home is with an individual, couple or family; Atlee is excellent with children. She should do great with other cats and a cat-friendly dog. Atlee is black and white with a tuxedo pattern. As of September 2022, Atlee is 7 months old. She is bonded with her littermate Mercy; therefore, prefer the two be adopted together. We are NOT the shelter, we are Friends of Jackson County Animal Shelter Pet Rescue (FJCASP) If interested in meeting this kitty, you can find an online adoption application at https://fjcasp.wufoo.com/forms/adoption-application/ adoption fees cover spay/neuter, vaccinations, wormers and preventatives and range from $50-$70. You can help save a life by fostering a cat for FJCASP. If interested in fostering you can find an online foster application at https://fjcasp.wufoo.com/forms/foster-application If you would like to donate to help us help the foster parents with food, medications and preventatives you can paypal us at [email protected] or you can donate supplies at the LaundroMutt in Ocean Springs! FJCASP is a 501(c)3, nonprofit and all of your donations are tax deductible!!
Peak your interest?
See other adoptable pets at