The status of Zoe (& Sunny BONDED) was

last posted on 12/23/22 by
Please contact them directly
if you are interested in
adopting Zoe (& Sunny BONDED)
- here's
what they've published:

Nine lives is not enough.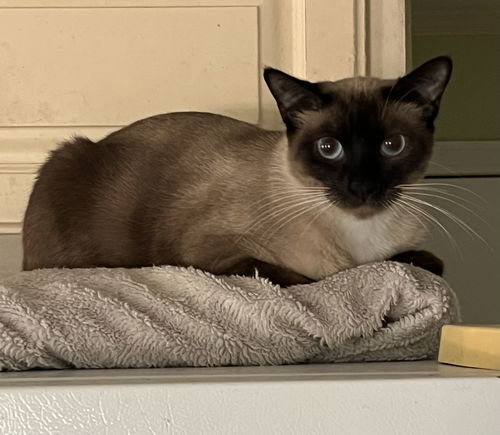 Zoe (& Sunny BONDED)
Status: Last posted as 'available' on 12/23/22
Female Cat, Snowshoe
Snowshoe / Siamese (Short Coat)
Description:
Sunny and Zoe are BONDED Snowshoes and are to be adopted as a pair. Both Seal points. They are Leukemia/FIV tested, neutered/spayed, shots, microchipped. Zoe is a little stand-offish at first, but mellow and beautiful. Start them out in a small room and you will find they are fond of being petted. They love cat trees and spots to chill. Approx 1 year old. Once they trust you, they are sweet. There is a third, Marley, who has been mellowing with their presence, so if you want three, she can be included. Adoption fee $300, Sunny and Zoe are not to be split up. 30-day money back satisfaction return policy, application required Email [email protected] or text 251-404-0022 ADOPT-A-KITTY.ORG
Peak your interest?
See other adoptable pets at